The TOWS Analysis Matrix is an indispensable tool for the building or maintenance of a company. The matrix works to detect the strengths and weaknesses of the company and use them to improve and protect the company's livelihood.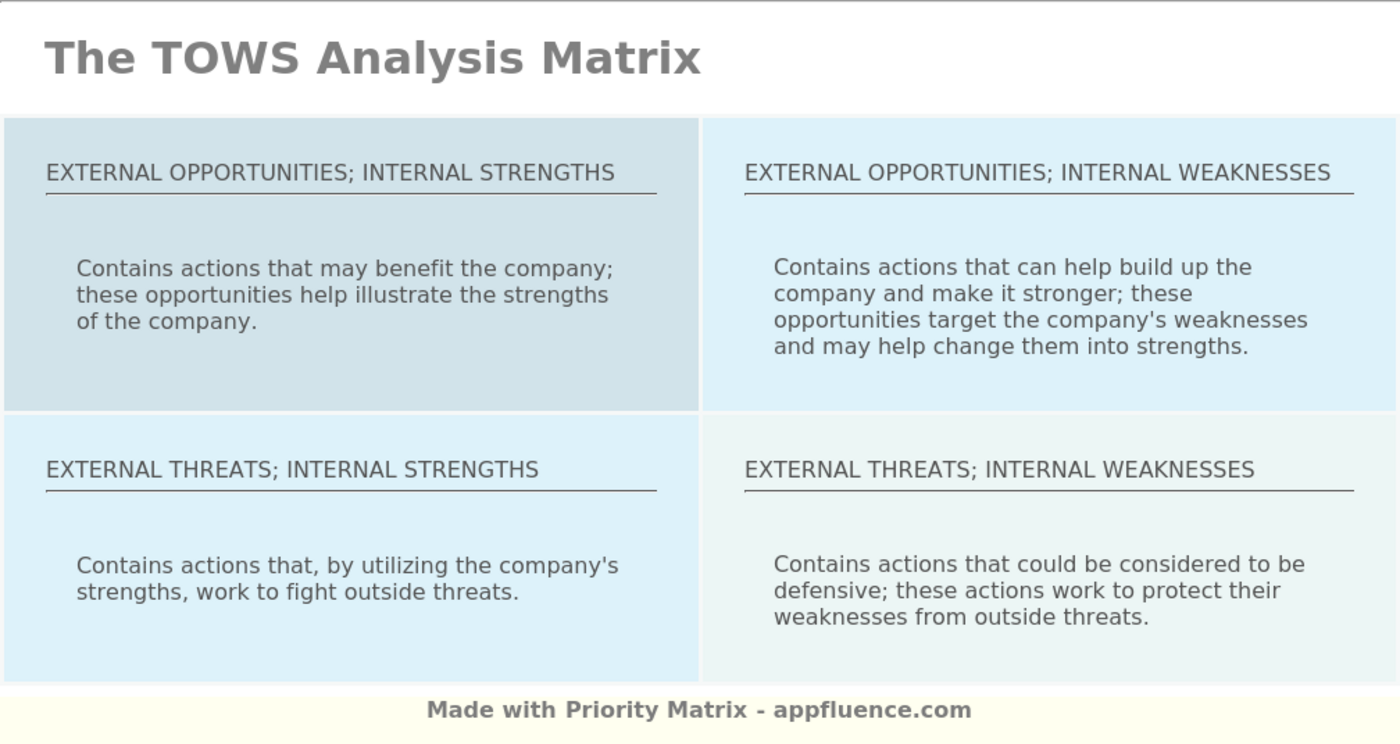 TOWS ANALYSIS MATRIX INFO
EXTERNAL OPPORTUNITIES; INTERNAL STRENGTHS
Contains actions that may benefit the company; these opportunities help illustrate the strengths of the company.
EXTERNAL OPPORTUNITIES; INTERNAL WEAKNESSES
Contains actions that can help build up the company and make it stronger; these opportunities target the company's weaknesses and may help change them into strengths.
EXTERNAL THREATS; INTERNAL STRENGTHS
Contains actions that, by utilizing the company's strengths, work to fight outside threats.
EXTERNAL THREATS; INTERNAL WEAKNESSES
Contains actions that could be considered to be defensive; these actions work to protect their weaknesses from outside threats.
TOWS ANALYSIS MATRIX TEMPLATE
Whether you are currently building a company or simply maintaining one, the TOWS Analysis Matrix can help prevent your business from suffering. TOWS requires the user to delve deeper into the core characteristics of a company, identifying its main strengths and weaknesses.
The company can use its strengths to seek out opportunities that may benefit it. By continually pursuing these opportunities, the company can grow its business and become even stronger. The company's strengths can also be used to protect it from outside threats, which will be discussed below.
Several threats to a company can exist; these can include the threat of another upcoming business, a change in the economy, or a change in customer preferences. One of the questions that the TOWS Analysis asks the user is this: 'In what aspects is the company vulnerable to these threats?' There are two things that can be done: the company can use their strengths to protect itself from the threats, or it can take defensive actions against these threats. Using the TOWS Analysis Matrix could save your company. Try it today!
TOWS ANALYSIS MATRIX IN PRIORITY MATRIX
You can get TOWS Analysis Matrix in your Priority Matrix in just a moment:
Click to import TOWS Analysis Matrix and open Priority Matrix in your browser
Start adding your items to the matrix
If you prefer it, download Priority Matrix and take your data with you
If you have any questions and you can't find the answer in our knowledge base, don't hesitate to contact us for help.
Watch a video about the TOWS Analysis Matrix here: